Homeowners often wonder how to measure for replacement windows and if they can manage DIY replacement. While you might save money by replacing windows on your own, one small mistake can mean severe issues over time. Consequently, it's vital that you measure correctly if you decide to install windows yourself.
Before you begin, ensure you have a notepad and pen or pencil handy. After all, trying to keep track of window measurements in your head is difficult if not impossible! Use a high-quality tape measure in good condition, so you know it works accurately.
Also, note that two windows side-by-side might have different measurements as their frames expand and shrink over the years. In turn, it's good to make note of each window as you go along. For example, you might indicate "left kitchen window, closest to stove" in your records.
How to Measure for Replacement Windows
You'll need to follow several vital steps when measuring for replacement windows and note that these are all necessary! Don't rush through any of these steps as that can mean inaccurate measurements or new windows that don't fit properly.
Checking the frame for square
First note the difference between new construction and replacement windows. New construction windows have nailing or an attachment fin along the side. On the other hand, replacement windows have no nailing or fins.
If current window frames are in good condition, you can use replacement windows. However, if your home's window frames are damaged or warped, you'll need new construction windows. Also, existing frames must be square, meaning with 90-degree angles along each corner. Otherwise, you'll need to remove them and use new construction windows.
Checking existing frames for square is your first step in measuring windows! It's often helpful to have a partner assist with this step. Hold the tape measure square and measure from the inside upper righthand corner to the inside lower left corner. Next, measure from the inside upper left corner to the lower inside right corner.
Now, compare these measurements. If they're within 1/4" of each other, your window frame is square enough for use. If not, it's best to use new construction windows or those with a new frame attached.
Measure window width
When measuring window width, you'll want to do this along three separate points inside the window. First, measure along the bottom, putting the tape measure inside the jamb or the part touched when the window moves. Second, repeat this along the middle of the window.
Next, measure again across the top of the window. Lastly, note the most narrow or smallest measurement of these three.
Measure window height
Again, you need to measure a window's height in three separate places: each side, and the middle. Also, you need to measure from the top board the window touches when open, to the sill. However, don't confuse the small wood piece sticking out along the window bottom for the sill!
What many homeowners call a windowsill is a "stool." The windowsill is the bottom board the window rests on when closed. As with measuring width, measure from the top board to this piece in three places. Then, highlight or otherwise note the shortest or smallest measurement.
Measure window depth
Window manufacturers and homebuilders typically use one standard depth for windows. However, you might still measure window depth in your home while you have the tape measure out! Manufactured homes, modular homes, and other such designs might include unusual window depths.
To measure window depth, open the window and measure along that bottom sill. Run the tape measure from the front to the back trim. If the measurement is at least 3-1/4" inches, standard windows should fit the space!
Round down the numbers
Once you've recorded your measurements, you'll need to round them down to the nearest 1/8". For example, round down a window measuring 30-10/16" to 30-5/8". If you're not sure how to round down fractions, a window manufacturer or reseller can typically help!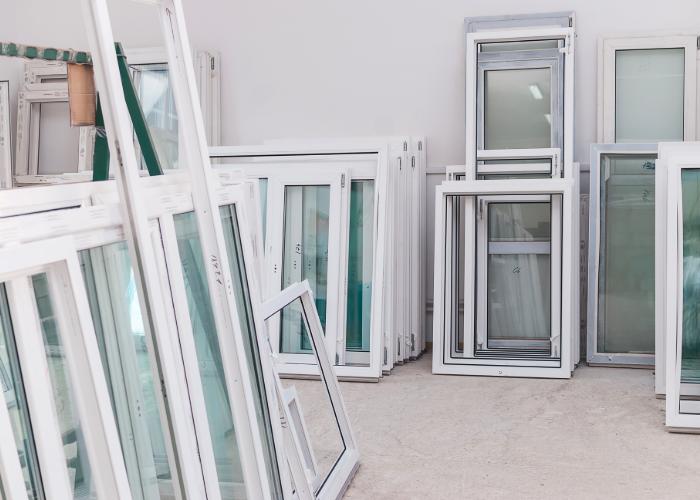 What Are Common Window Sizes?
Homeowners are often surprised to find that windows come in a wide range of standard sizes! Also, note that manufacturers and resellers typically shorten those measurements to four-digit notations, width by length. In other words, they might use 2030 for windows 2 feet, 0 inches wide by 3 feet, 0 inches tall.
Additionally, note that window sizes vary according to style and operation. To help you better understand these factors, check out some details about window styles and their common measurements.
Single-hung and double-hung windows
Single-hung and double-hung windows have two sashes, one on top of the other. On a single-hung design, the lower sash moves up and down while the upper sash stays stationary. However, with double-hung windows, both sashes lift and lower.
Single-hung windows are probably the most used in homes as they're both affordable and functional. At the same time, double-hung windows are excellent for kitchens and bathrooms. Opening that top sash allows steam and airborne grease to escape easily! Common measurements for single-hung and double-hung windows include:
2 feet wide by 3 feet high (2030)
2 feet wide by 4 feet, 4 inches high (2044)
2 feet, 8 inches wide by 4 feet high (2840)
2 feet, 8 inches wide by 5 feet, 2 inches high (2852)
4 feet wide by 6 feet high (4060)
Sliding windows
Sliders or sliding windows, as the name implies, have at least two sashes sitting side-by-side. One or both sashes then slide sideways to open. These are excellent for awkward spaces where pushing a window sash up and down might be cumbersome! Sliders typically measure:
3 feet wide by 2 feet high (3020)
3 feet wide by 3 feet wide (3030)
5 feet wide by 3 feet high (5030)
6 feet wide by 4 feet high (6040)
7 feet wide by 4 feet high (7040)
Picture, fixed, or stationary windows
Stationary or fixed windows don't open or close! Contractors might call these picture windows as their unobstructed panes offer a nice view or "picture" to the outside. A picture window is excellent in rooms where you don't need an open window but want an outside view. Additionally, stationary windows allow for sunlight into otherwise dark and dingy spaces.
First, note that manufacturers make stationary windows in a variety of custom sizes. Second, consider that a contractor can typically create custom picture windows to just about any width and height! In turn, you can enjoy a large window that overlooks the home's stunning outside view. On the other hand, a contractor might install a small window over a bathtub, in a hallway, and so on.
Standard picture window sizes include:
3 feet wide by 2 feet high (3020)
5 feet wide by 3 feet high (5030)
6 feet wide by 4 feet high (6040)
4 feet wide by 5 feet high (4050)
8 feet wide by 5 feet, 2 inches high (8052)
Casement windows
A casement window has a hinge on the side so that it opens inward or outward, like a door. Homeowners often appreciate casement windows for their cozy look, and because they allow in lots of fresh air! Also, like sliders, they're a great choice where it's difficult to push or pull windows for opening and closing. Standard measurements for casement windows include:
1-foot, 7 inches wide by 1-foot, 4 inches high (1714)
1-foot, 7 inches wide by 2 feet, 5 inches high (1725)
2 feet, 3 inches wide by 2 feet, 3 inches high (2323)
2 feet, 9 inches wide by 2 feet, 9 inches high (2929)
3 feet, 5 inches wide by 2 feet, 5 inches high (3525)
Custom window sizes
While custom windows might cost some 50% more than standard sizes, they're an excellent choice for many interior spaces. For example, some manufacturers might offer custom casement windows as high as 8 feet tall! If your home offers a stunning view, imagine having windows that tall along the living or family room.
Also, many manufacturers offer custom window sizes adjusted by 1/8" increments. In turn, you can add new windows to existing frames that don't accommodate standard sizes. Consequently, your contractor won't need to do as much cutting and fabricating for those new windows.
Above all, custom windows fit spaces that simply won't accommodate standard sizes. For instance, you might want a tall, narrow window in the corner of your office or that highlights raised ceilings. Custom design and installation allow you to add windows in these otherwise inaccessible spots!
Your Quick Guide to Buying Replacement Windows
When it's time for new windows, take advantage of the opportunity and upgrade their style, energy-efficiency, and other features! Your home's windows play a large role in its overall insulation and curb appeal. In turn, swapping out those windows for something new can mean an improved home appearance and efficiency. Above all, upgraded windows can increase home values!
Choosing replacement window glazing
Glazing refers to a window's glass panes. Some decades back, windows only had one pane or sheet of glass. Today, many new windows are double-glazed or triple-glazed, with two or three panes back-to-back. Manufacturers might then add a specialty gas, argon or krypton, between those panes.
The more panes or glazing to a window, the more insulation it offers. Also, those specialty gasses help block heat and cold. In turn, double-glazed and triple-glazed windows are excellent for keeping interior rooms comfortable. Additionally, they can mean your home's HVAC system cycles on and off less often throughout the year!
Choosing coatings and tints
Various glass coatings and tints supply added protection against heat and light coming through the glass. In turn, you can enjoy a comfortable interior space and lower utility costs throughout the year.
Low-E or low-emissivity coatings block heat but not light. These are excellent for areas with extreme climates. In colder areas, low-E coatings on the inside of glass keep heat in your home. In the tropics, low-E coatings on the outside keep out heat while letting in sun.
Tinted glass also reflects energy while blocking light. Gray and bronze tints are excellent for homeowners who prefer less light in interior spaces. For example, you might choose tinted glass for bedrooms or family rooms where you watch television.
Reflective films and tints also provide a mirrored look for glass. These are excellent where you need added privacy, such as homes on busy streets. They're also excellent for businesses where you want to create a stylish look along your property's exterior.
How Do You Choose the Right Window Style?
Along with added efficiency, a homeowner might note various window styles when shopping for new windows. An updated style can mean an improved appearance both inside and outside your home. Also, some window styles offer more fresh air circulation and sunlight and are simply easier to operate!
For larger walls
Single-hung windows might seem out of place along long or large walls. Their sashes can often appear too small for that open area, and the center frame also interrupts the view. Instead, consider a casement window for long or larger walls. Also, you might add stationary windows with those casements, for added sunlight and an enhanced view.
For increased air circulation
Choose double-hung windows for spaces that need added air circulation such as the kitchen or bathrooms. Also, if someone smokes in a particular room, you might consider a double-hung window for that space. Opening that top sash allows heat, smoke, airborne grease, and other residues to escape more readily.
Additionally, double-hung windows are excellent for spaces where you need air circulation and privacy! For example, you might not want to open the lower sash of a single-hung window in a shower. On the other hand, you can choose a double-hung window with frosted glass. Tint or frosting on the lower pane ensures privacy while opening the upper pane lets steam escape.
For awkward spaces hard to reach
If you struggle to reach a window over a sink or tub, consider a slider. Sliding a pane to the left and right is often easier for awkward spaces hard to reach. Also, a casement window with a crank opening operates more easily than single-hung and double-hung windows in those spaces!
Fort Worth Home Window Replacement is happy to offer this information about how to measure for replacement windows to our readers. Hopefully you found it helpful and informative! For your FREE consultation and quote, call our Fort Worth window replacement contractors. We carry a full line of energy-efficient, stylish windows sure to fit your needs and budget. To get your property started, give us a call today.